What is Bitcoin
Bitcoin is a new kind of money. Its the first decentralized electronic currency not controlled by an single organization or government. Its an open source project, and it is used by over a hundred thousand people. All over the world people are trading hundreds of thousands of dollars worth of bitcoin everyday with no middle man and no credit card companies. Its a startup currency which has never happened before.
Understanding Bitcoin by the Numbers
Last Modified: Saturday, October 1, 2011
The bitcoin network is comprised of a collective of computers (called miners) that anyone can join by running bitcoin mining software. The creation of coins is controlled by this network so that coins are created at a predictable rate. Currently there are about 7 million coins currently in circulation. There will never be more then 21 million coins created.

Source: Bitcoin Wiki: Controlled Currency Supply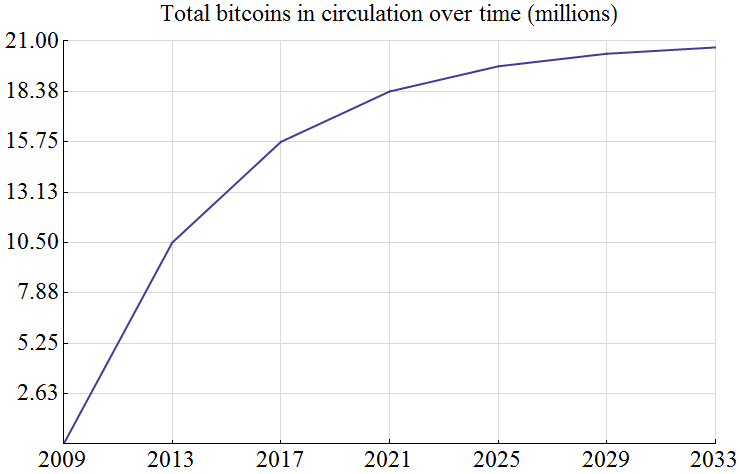 Note:BTC is short for bitcoin.
Newly mined bitcoins are distributed across the population of participating miners. A miner is a specialized server that someone can setup, which is different then just being someone who uses a bitcoin wallet. As bitcoins become more valuable, the incentive for people to invest in mining increases. When miners join the system, competition increases, and each miner gets a smaller piece of the pie. Mining software performs mathematical calculations called 'hashes' which increases the security of the transactions on the bitcoin network. The more miners calculating hashes, the stronger the networks encryption becomes. The bitcoin network has already become 10 times more powerful then any super computer in the world.


The first chart below shows the growth in computational speed, and the increased power of the security of the bitcoin network. MHashes are mega hashes in millions. Giga is billions. Tera is trillions.
Sources: bitcoin.sipa.be: hashing chart and btcserv.net/bitcoin/history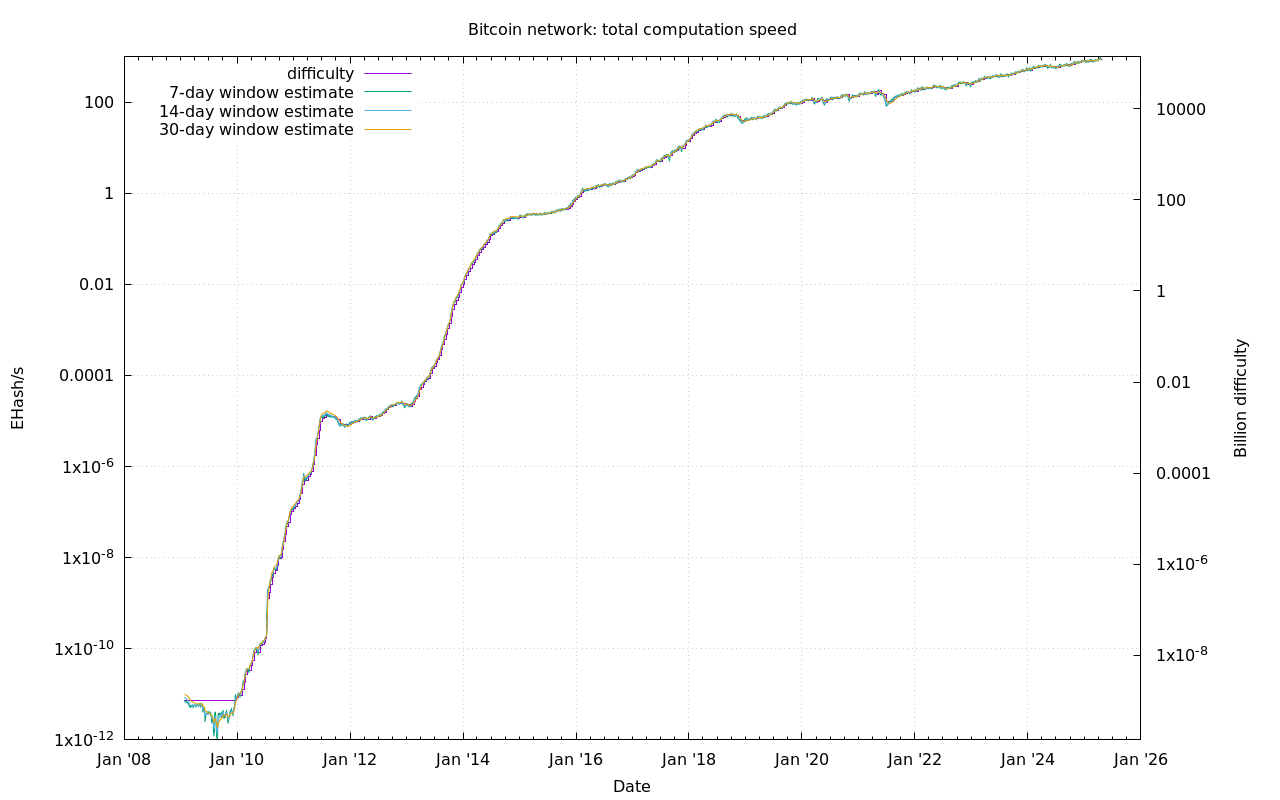 There is a long-run feedback cycle between difficulty and price. If price goes up, that makes mining more lucrative, and people buy new computer equipment. If price declines far enough to make mining unprofitable, we may see a decrease in mining power as miners exit.

Source: bitcoinx.com/charts Also see Virtuallyshocking.com: Price and Difficulty.


The price of bitcoins has been rising steadily since it was created in 2009. The rapid growth creates a lot of volatility in the market as new people find out about bitcoin. The price will often go up many multiples, and somtimes fall back down a few multiples as the market establishes an equilibrium. Below is the price chart for the last year on an exponential scale. Each interval on the scale shows the value of the coins doubling. Price is in USD.

Source: BitcoinCharts.com: MtGox 1 Year Log Chart View



Here is some additional historic pricing data:
| | |
| --- | --- |
| May 22, 2010 | Laszlo first to buy pizza with Bitcoins agreeing upon paying 10,000 BTC for ~$25 worth of pizza courtesy of Jercos. ($0.0025/BTC) |
| July 12, 2010 | Beginning of a 10x increase in exchange value over a 5 day period, from about $0.008/BTC to $0.08/BTC |
| October 07, 2010 | Exchange rate started climbing up from $0.06/BTC after several flat months. |
| November 6, 2010 | The Bitcoin economy passed US $1 million. The MtGox price touched USD $0.50/BTC. |
| February 9, 2011 | Bitcoin reached parity with the US dollar, touching $1 per BTC at MtGox. |
source: wiki: History
Numbers:
As the value of the unit of 1 BTC grows too large to be useful for day to day transactions, people can start dealing in smaller units, such as milli-bitcoins or micro-bitcoins. Comparing US dollars and bitcoins, a US Dollar is divisble down to 2 decimal places. This smallest unit is called a penny, and there are 100 pennies in a dollar. A bitcoin is divisible down to 8 decimal places. This means "1 BTC" represents 100,000,000 individual units. In the entire bitcoin system with a maximum of 21 million coins, there would be 2,099,999,997,690,000 (just over 2 quadrillion) maximum possible units. (source)

Price for 1 BTC in US Dollars: $5.35 (Sept 23th, 2011)
Bitcoins mined so far: 7,340,300 BTC
Bitcoin economy Market Cap: $39,273,468 USD (see bitcoinwatch.com)
Max number of bitcoins that will ever exist: 21,000,000 BTC
Amount of bitcoins trading per month: 1.6 Million BTC ($9.6 Million USD)

For reference, here is some information on the world economy:
Physical paper US Dollars: $2,200,000,000,000 USD. (source)
Annual transaction volume for the credit card industry: $6,000,000,000,000 USD (source)
Expected size of the emerging mobile payment market by 2015: $670,000,000,000 USD. (source)
Annual turnover volume for international trade: $12,000,000,000,000 USD (source)
Total money supply in the world: $75,000,000,000,000 USD (source)

Percentage of the wealth in the US owned by 1% of the population: 45%
Percentage of bitcoins not yet issued: 66%

People on the planet: ~ 7,000,000,000
Total money supply in the world in dollars per person: $75,000,000,000,000 / 7,000,000,000 people = $10,714 USD per person
Bitcoins per person: 21,000,000 BTC / 7,000,000,000 people = 0.003 BTC per person

Projected price of a bitcoin if adopted as the global currency:
$75,000,000,000,000 / 21,000,000 BTC = $3,571,426 per bitcoin

Other resources:
Stuffexists.com
: Bitcoin Stuff
Bitcoin Meetups Worldwide